Bob Robinson
Founder and Executive Director
bob.robinson*re-integrate.org
(330) 806-4901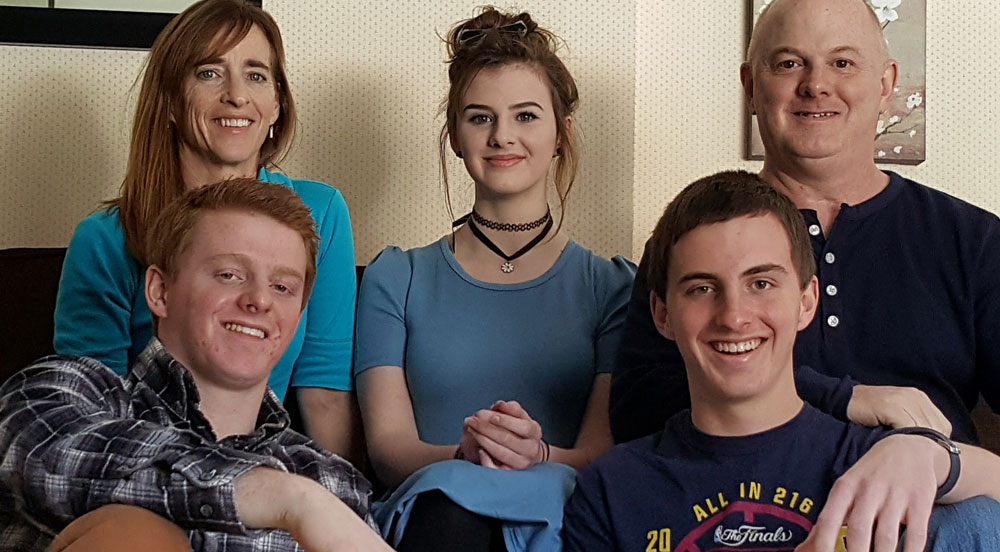 Trey, Joel, Linda, Kaira, and Bob
WHAT I DO
Well, this is kind of awkward. I need to tell you about myself honestly without coming across as proud. Let me say this: I am not attempting to boast in my flesh. As the apostle Paul wrote at the end of his letter to the Galatians, may I never boast except in the cross of our Lord Jesus Christ, through which the world has been crucified to me, and I to the world. It is only because of what God has been doing in and through me that I am able to serve him and the body of Christ!
I'm the Executive Director of Reintegrate. Reintegrate is a nonprofit organization that equips God's people to reintegrate the Christian faith with vocation so that they can participate in God's mission on earth. I have the privilege to help marketplace leaders and their businesses or institutions, church leaders and their ministries, and college students by providing consulting, teaching, curriculum, networking, and coaching.
As a Campus Minister with the Coalition for Christian Outreach (CCO), I reach out to students at Kent State University, Stark State College, and Malone University. Nothing has shaped me more – my theology and my approach to ministry – than being a part of the magnificent community at the CCO. I praise God for being a part of this ministry!
I'm an ordained pastor (ordained for Gospel Ministry by The Chapel Consortium Churches), and I currently serve in various teaching capacities in my local church.
MY EDUCATION and CONVERSION
I have a bachelor degree from The University of Akron in Business Administration, where I was the president of the honorary fraternity for Marketing majors. After college, I immediately experienced success with NCR Corporation (then a member of the 'Fortune 100'), winning awards for account development and creative design.
At the age of 25, God did a wonderful thing in my life by getting me to start attending The Chapel in Akron. By God's grace and mercy, I became a follower of Jesus Christ.
Just a few months later, God was calling me to the ministry.
In 1996, after five years of seminary training, I received the Master of Divinity degree with honors from Trinity Evangelical Divinity School. During that time I had the privilege of interning at The Chapel as Senior Pastor Knute Larson's assistant.
I am currently working on the Doctor of Ministry at Covenant Theological Seminary in "Faith, Vocation, and Culture," studying under Dr. Donald Guthrie of Covenant Seminary and Trinity Evangelical Divinity School and Dr. Steven Garber of the Washington Institute for Faith, Vocation, and Culture.
PAST MINISTRY EXPERIENCE
As Pastor of Adult Ministries at The Chapel in North Canton for three years, I developed a multi-faceted adult ministry through teaching, preaching, casting vision, developing programs, recruiting and training leaders, and writing curriculum. We initiated evangelism efforts, began the "Institute for Christian Living," trained Adult Bible Fellowship leaders, doubled small group participation, and initiated many adult learning experiences, including a young adult ministry.
Then the Allegheny District of the Evangelical Free Church of America along with a small group of local Christians asked me to plant a church.  Starting in my family room, 20 people met and then grew as we moved to a large conference room in a local doctor's office. In the next two years, we grew to nearly 70 people. I preached every Sunday, led innovative servant-outreach projects, and initiated community-growth programs.
I enjoy studying and engaging with other ministry practitioners in how to implement new ideas for doing ministry. This led me to create the "Vanguard Church" website, writing about missional ideas for ministry and creating a space for interaction with others in the United States and around the world about how to revitalize Christian mission for the 21st Century. "Vanguard Church" has been recognized as a "catalyst" for the missional movement. Along these lines, I have also initiated an on-line project called "Friend of Kuyper," a web resource for the revitalization of Christian ministry.
In 2005, the Coalition for Christian Outreach (CCO) called me to be the Area Director for Northern Ohio.  The CCO is a college campus ministry that partners with churches, colleges and other organizations to develop men and women who live out their Christian faith in every area of life. In this executive position, I supervised and mentored campus ministry staff placed strategically on university and college campuses, seeking to "transform students to transform the world," and created cooperative ministries with churches and institutions to reach the students at all the schools in the northern region of Ohio.
MY WRITING EXPERIENCE
I wrote the book, Reintegrate Your Vocation with God's Mission (Good Place Publishers, 2017), called "one of the finest study guides for people who are eager to align their personal vocation with God's mission in the world." (Mark Roberts, Executive Director, The Max De Pree Center for Leadership at Fuller Theological Seminary).
I served as a content editor for The High Calling, the nation's largest faith-at-work website with a community of subscribers over 200,000.  The High Calling is now a part of the Theology of Work Project. I had the responsibility to provide content for the website every other week, writing articles and commissioning other writers to write articles that I edit and place on the site. Certain articles I've edited and/or written have been read by nearly 10,000 unique individuals, which, I don't mind saying, is quite gratifying! The people with whom I work at The High Calling are some of the brightest and interesting people I've ever known. What a blessing to be with them!
I've had the pleasure of seeing my ideas published in the feature article, "Who Am I?: Rooting Your Identity in the Image of God", the cover story for Comment Magazine's third annual "Making the Most of College" issue.
Cardus developed a compendium publication, The Cardus Worldview CoursePack, where this article was included with others from well-known authors like Michael Goheen, Gabe Lyons, Steven Garber, Richard Mouw, Calvin Seerveld, and David Naugle.
My thoughts were included in the book A New Kind Of Conversation edited by Myron Bradley Penner and Hunter Barnes. Scot McKnight had me contribute help on two of his books (Embracing Grace: A Gospel for All of Us and A Community Called Atonement).
I have also written articles for Trinity Journal and Trinity Magazine.
MY FAMILY and INTERESTS
Linda and I have been married for 24 years. We have three fun and challenging children, Trey (19), Joel (17), and Kaira (17). Linda has her Master's Degree in Physical Therapy. She specializes in Sports Medicine Rehab, especially for young athletes.
Among my interests include sports, music, mountain climbing and hiking with my wife, reading (see what I'm currently reading at Good Reads), writing, graphic art, creating and designing web pages (I designed this website and a few others), hanging out with my kids, and talking with people over a good cup of espresso.
My family currently resides in Lake Township, near Canton, Ohio.